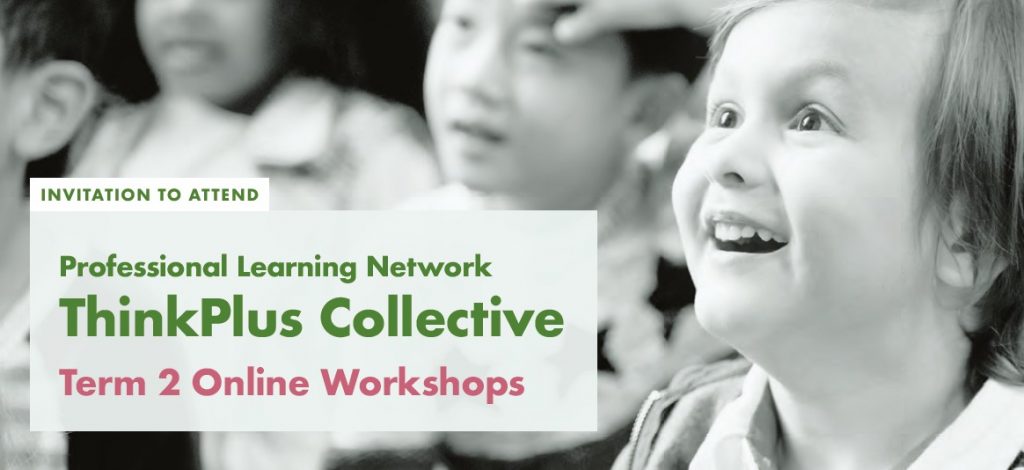 Term 2 Online Workshops
Professional Learning Network- ThinkPlus Collective
29th April – 7 may – 12 May
LEARNING OBJECTIVES:
Gain ThinkPlus Teacher Accreditation if new school
Develop/Review progess on school ThinkPlus Action Plan for 2020
ThinkPlus Online Collective Portal Launch
Prepare to teach with our new Resources
Strong focus on Emotional Resilience and COVID19
Registration at https://tinyurl.com/y5ekgrtm
For more information download factsheet here

GROWING YOUNG MINDS EVENT
Sept 3 – 2019.
Growing Young Minds 2019 is our practical full-day experience on setting up young learners with the right mindset and skills for the future, with a host of great speakers and interactive sessions.
Growing Young Minds
19 March 2019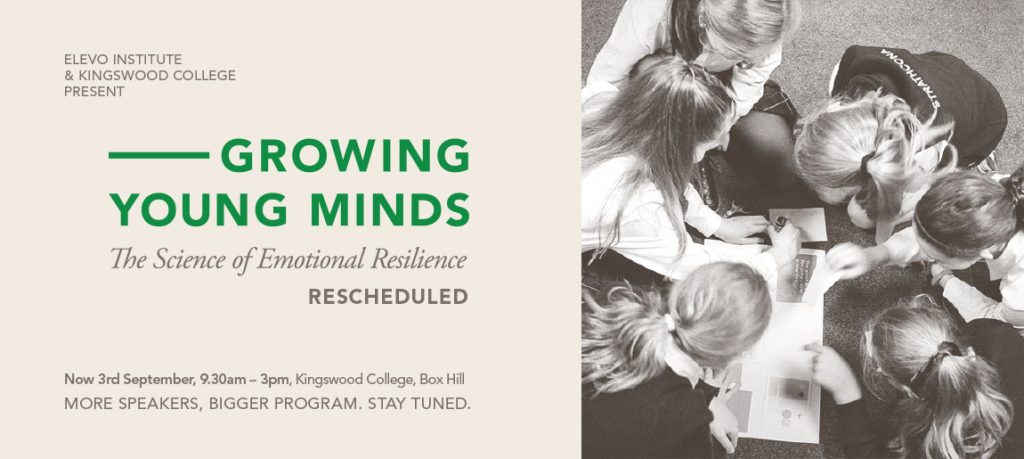 Growing Young Minds – May 2019 has been rescheduled to September, due to unforeseen circumstances.
We sincerely apologise for any inconvenience this may cause and look forward to welcoming you instead to our much bigger and better event later this year! Stay tuned as we'll be announcing the ticket release date along with more speakers and an expanded program.
Refunds will issued to current attendees through Eventbrite. Please expect to receive a confirmation e-mail either today or tomorrow.
If you have any queries or concerns, please get in contact with us via Facebook, e-mail or give us a ring at 03 9896 1743.
---
ThinkPlus is now on Facebook
17 February 2016.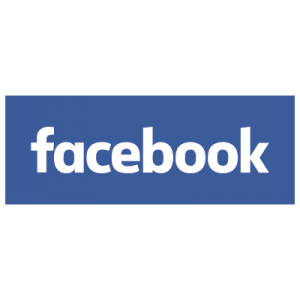 ---
Kingswood College Partnership
23 February 2015

Elevo is pleased to announce that it has entered into an agreement with Kingswood College to develop further the ThinkPlus metacurriculum and to coordinate and link ThinkPlus schools in Victoria. The focus of the development, to be managed by Kingswood in 2015, will be with two groups of students, those in Years 1 and 2 and those in Years 9 and 10. Materials developed are to be shared freely with ThinkPlus schools.
ThinkPlus is a metacurriculum for learnable intelligence and thinking tools, to be implemented in Australian schools from years Prep – 12. ThinkPlus is designed to develop an awareness of how our brains work, growth mindsets, good thinking dispositions and practical tools for collaboration, problem solving and creativity. The metacurriculum is based on contemporary research about how the brain learns and thinking occurs. The key to ThinkPlus is the concept that intelligence can be grown with effort. By instilling young learners with the confidence and ability to think through problems, we envisage that they will be better equipped to navigate challenges in the 21st century.
Kingswood College is an independent, co-educational ELC – Year 12 Uniting Church College in Box Hill and has been educating young men and women since 1890. Known for its innovation, collaboration and engagement, Kingswood College is entering an exciting time in its development as it implements a world-class student-focused learning agenda. Kingswood College's agenda for learning is two-fold: improvement and innovation through the implementation of the LATTICE (Learning and Teaching through Innovation, Collaboration and Engagement) framework, and Kingswood College is a candidate school for the International Baccalaureate Primary Years Programme.
Kingswood College's partnership with the Elevo Institute aligns with both organisations' commitment to innovation and creating a better future for young people. The Elevo Institute and Kingswood College seek to:
develop the creative potential of young people as a preparation for the challenges of a rapidly changing world, and an unknowable future
improve teaching and learning through development of well-researched and tested innovative methodologies
incubate new ideas, taking them from thought leadership to the school/classroom.
For further information contact:
Elisabeth Lenders — Principal, Kingswood College — 03 9896 1700
David Loader — Director, Elevo Institute